Fun News
Yo ho ho! Here we go to Mexico!
After talking about it for over a year, our family decided to buy a ​ ​catamaran for ​charters and tours from the La Cruz Huanacaxtle Marina to the surrounding towns of​ ​Sayulita, Punta Mita, Bucerias, and Puerto Vallarta in Mexico. Finding the perfect boat for our charter and tour business in the San Diego area, we gathered some close friends together and departed for the adventure of our lifetime to ​transport her to the La Cruz Huanacaxtle Marina, thus launching a legacy of fun and adventure and sail southward. There were eleven of us who took the 'plunge' leaving the San Diego, California Harbor for a journey we will never forget, bracing the open sea, on our way toward the Mexico waters of Puerto Vallarta.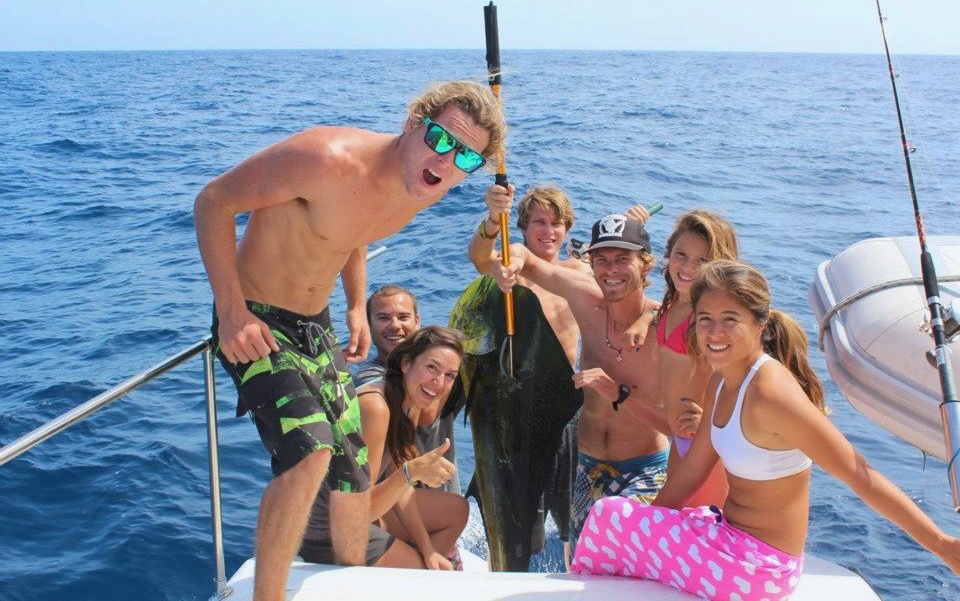 We said goodbye to the awesome San Diego sunsets as we set our course toward Baja, California. Each day on the water was a new adventure, sighting sea turtles,​ ​dolphins, and manta rays. Never a boring minute, we were able to swim with the sea turtles and ​​very​ morning​ ​we were greeted by frisky, playful dolphins who raced alongside our boat in the blue Pacific, enriching our lives, as time passed us by. ​At the end of a full day, ​while ​loung​ing​​ on the beautiful deck​ of the boat​,​​ we finally picked the perfect name for her, "Ally Cat."
We were four days out to sea, never seeing a s​liver of land; it was just us and the blue horizon. Along the way, in some of the most picturesque places along the Pacific coast, ​we did the very things we now offer: sailing, fishing and snorkeling. ​ We caught many fish along the way, but it wasn't until arriving two hours outside of Cabo San Lucas that we caught our biggest fish, a Mahi-Mahi, and ate for days! After tying the boat up in the marina, we trekked into the town of Cabo to have some 'land lubbers' food, and some delicious tacos. Well, talk about climate change! Coming back to the boat that evening, it was so hot that we all decided to play 'squirt gun' with the fresh water shower as we boarded and, wet in our bathing suits, crashed on deck for the night on the two front trampolines.
We had fun ​on this journey back to Mexico, to our new life and new business, and to the La Cruz Marina, home of the Ally Cat. We​ ​​​are​ looking forward to sharing fun adventures with friends … old friends … and meeting so many new ones along the way!!!